Update: This contest is now closed.
Happy Monday, y'all! Yeah, yeah… easy for me to say, not having to go to work today and all. Maybe you're struggling a little this morning after getting a little too rowdy at a Golden Globes party last night — or attempting to drown your sorrows after Avatar won Best Picture.
Chin up, pups — it's time for phetched's first giveaway of 2010!
Etsy's 2 Virgos Designs, which sells premium handmade soaps and bath and beauty products, is helping us give away sets of these super cute bone-shaped guest soaps to three lucky readers!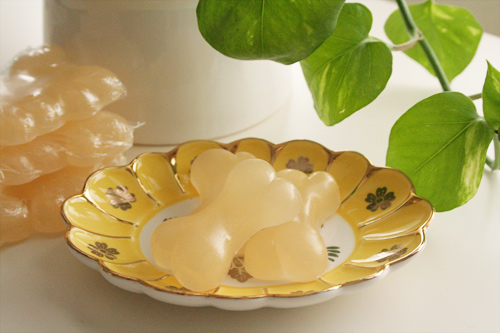 These shimmery, sparkly handcrafted glycerine soaps (for humans, not dogs) are lightly scented with hints of frankincense, neroli, amber, and orange blossom. They're made from natural soap base and leave your hands soft and smooth. And hel-LO… they're shaped like little dog bones. SO cute.
These soaps come from 2 Virgos' Primo's Pawtourage line of dog-themed products (including 3D dog-shaped soaps!). Artisan Jackie Sample uses the proceeds from this line to fund healthcare and other needs for her Maltese, Blossom, a seven-year-old puppymill rescue.
To enter to win a set of 3 dog-bone soaps, just comment below with your name and email (which will not be published publicly). Three random winners will be chosen and announced Wednesday, January 20 at 10:00 p.m. Eastern time.
(U.S. and Canadian shipping addresses only, please. Postage is expensive, y'all.)
Tags: Etsy, for humans, giveaways, handmade
Comments are now closed.