I got a friendly email from Alisha over at Wiggles Wags & Whiskers recently asking if we'd like to give their patented no-pull harness a try. Sure, I said.
Now, here's the thing: I have two husky mixes, which means I basically have, like, a sixth of an Iditarod team. Basically — and, trainers, you might want to skip this next line — pulling, to some degree, is basically a fact of life for us. By themselves, Mingus and Dottie generally walk fine. But when we walk them together, it's like they've both got their sights set on Nome and we're 35 miles behind Lance Mackey.
So it was with a modicum of skepticism that I first outfitted Mingus and Dottie with the Freedom No-Pull Harness (which was easy to do, by the way — just slip it over the head, then snap the clasps on the sides).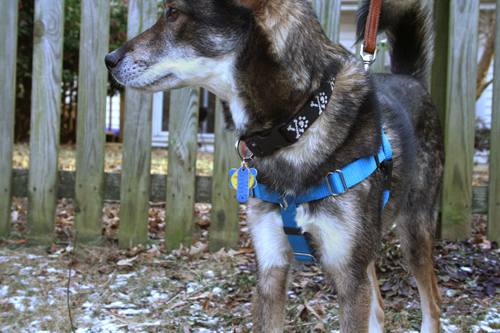 We've taken the harnesses for a few spins around the neighborhood, and guess what? The harness really works. It's designed (and patented, at that) as a training tool, rather than a miracle drug, and between the mechanism of the harness, a few gentle corrections, and some well-deserved praise, Ming's pulling has totally eased up. My husband has been test-driving Dottie's Freedom harness — Dottie, who literally pulls sideways – and here she is almost at — what?? — a heel.
I'm sold. It's easily the best no-pull harness I've ever tried. (And believe me, I've tried a few.)
Part of what makes the harness work so well is its Martingale-type "action loop" at the shoulders and, if needed, a front loop for attaching a special (optional) training leash for additional control (expertly modeled by Dottie, below). You can read all about how it works (and it really works!) here.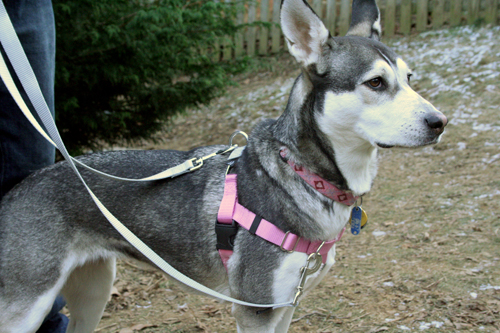 Other things we like about the Freedom No-Pull Harness:
1. It comes in lots of pretty colors, and has soft velvet lining on the chest straps.
2. Putting it on and taking it off is a cinch — not, as with many training harnesses, akin to a game of Twister with your dog.
3. It's well-constructed from durable materials, and even comes with a Chewing Warranty.
4. Dottie's something of an escape artist, and so far this harness has held her fast.
5. It's made right here in North Carolina, the 12th state to ratify the Constitution. (The Constitution has nothing to do with the harness. I just thought you'd like that bit of trivia, just like I like supporting local independent businesses.)
Find out where to buy the Freedom No-Pull Harness (only $29!) here.
Comments are now closed.