One Monday in late November, about a week before we moved, I literally spent all day on the phone setting up the utilities at our new place and changing my mailing address for credit card accounts, bank accounts, magazine subscriptions, insurance companies, yadda, yadda, yadda. Yet here we are, close to a month later, and my pups are still walking around with ID tags with our old address on them. Shameful.
I have a good excuse: I haven't changed my cell phone number yet, so the phone number on the tags is still valid. Once I get a new local phone number, though, I'm pretty sure I'm ordering them both new Red Dingo tags. They're super preshy and way durable — Dottie's got one, and if you know Dottie, the fact that it's still in one piece, much less still shiny and new-looking, is beyond impressive.
And hey, lucky me — Red Dingo's just released a bevy of new designs.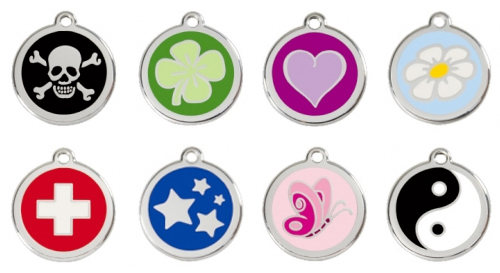 Fetch these and other new tags at Red Dingo or Krazy For Pets.