Well, friends, a new year is nearly upon us. Aside from the a.w.e.s.o.m.e. plans I've got going on New Year's Eve, I'm so over 2009. Matter of fact, I'm ready to wave sayonara to this whole decade. Natural disasters, economic meltdown, the rise and fall and rise again of Britney Spears… I don't know about you, but I'm ready to kiss the Aughts goodbye.
And what better way (aside from champagne, a pretty dress, good friends, dessert at 3 a.m., and a hangover) to ring in the new year than an awesome new calendar? I'm loving the Dog Portrait Eco Calendar from Turnaround Design.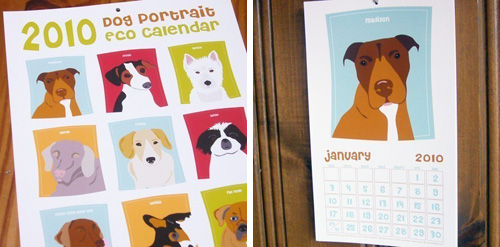 The calendar is designed from photos of dogs, printed on 100% post-consumer recycled cover stock, and assembled by hand. Order yours here.
Comments are now closed.