Cute pups, huh?
All of them live in my area, and all of them are looking for forever homes through Petfinder.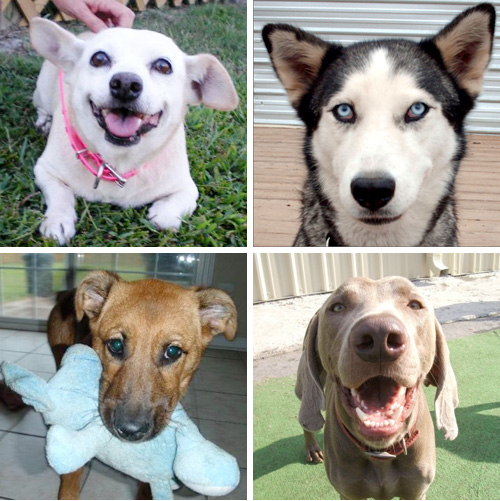 (Clockwise, from top left: Alaia, Rhiannon, Stewart, and Colby)
October is Adopt-a-Shelter-Dog Month, and if you're looking to add a dog to your family, Petfinder is an unbelievably awesome resource, with photos and information for over 300,000 pets looking for an adoptive family. Petfinder allows you to easily search adoptable dogs by breed, sex, location, or size, and contains bios and photos of the dogs-in-waiting that include information on the pups' personalities and needs. Petfinder also offers a wealth of resources for families adopting, including information on dog breeds and types, dog care, dog training, and dog health.
When we adopted our Dottie in 2008, we first found her through our local shelter's listing on Petfinder. Petfinder then allowed us to keep track of her between the shelter, a foster home, 2 cities, and about 175 miles before we were finally able to bring her home. I've known friends thinking of adopting a dog who refer to Petfinder as "puppy porn" — and trust me, it's OK to look. Go ahead.
If you're not able to adopt right now, Petfinder has published a list of things you can do to help pups in need find forever homes.
Comments are now closed.