Pelé. Beckham. Donovan. Ronaldo. Hamm.
Ginger?
It's true — now your pup can be a veritable soccer legend (or at least dress like one) thanks to Little Fanaticos, the one and only carrier of dog soccer jerseys in the U.S.
(For those Americans who are still stuck on that first line, those are soccer players. Soccer.)
Little Fanaticos, based in Putnam, CT, was founded in 2007 after owner and soccer fan Enrique Ramirez searched high and low to find soccer jerseys for his three rescue pups. Finding nothing, Ramirez set out to provide quality fashions for the little canine soccer fanatico.
Little Fanaticos jerseys and jackets are inspired by and styled after actual, authentic jerseys worn by current and past FIFA national teams (you know, if they were worn by dogs), including France, Brazil, Germany, and the always disappointing Team USA.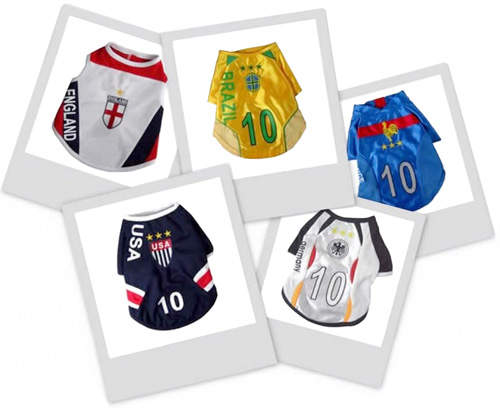 I received a Little Fanaticos jersey in the mail for review and giveaway last week, and luckily for you all, it was just a teense too small for my mutts — otherwise I'd be keeping it all for myself. These jerseys are flat-out awesome. The quality is impeccable — soft mesh polyester, detailed stitching, bright colors, and impressive embroidery. And on top of all that, they're ridiculously affordable. I so wish Mingus could squeeze into this jersey so he could be Landon Donovan for Halloween. Instead — sigh — I guess I'll have to do the honest thing and, as promised, give it away to one lucky reader. (Details below!)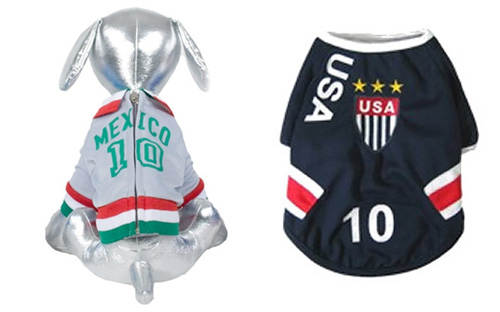 Check 'em out and fetch one for your four-legged footballer at Little Fanaticos' web site. And just in time for chilly weather and Halloween, Little Fanaticos is offering 30% OFF jerseys and FREE SHIPPING. Score!
And now, for the giveaway…
This giveaway is for one Little Fanaticos USA soccer jersey (pictured above). The jersey is 100% breathable polyester and features Landon Donovan's Team USA #10. The jersey is a size Medium/16, which would fit up to a 20- or 25-lb or so dog (dachshund, miniature schnauzer, corgi, Scottish terrier, etc.) (For more information on sizing, check the Little Fanaticos web site.)
Giveaway will close at 11:59 p.m. Saturday, October 10th, and a winner will be drawn randomly and announced Sunday, October 11th.
To enter:
1. Simply leave a comment below. (Your email address will be requested, but not displayed publicly — we'll just use it to get in touch with you if you win.) In your comment, please include some variation of the following: GOOOooooOOoOooooOooOAAaaLLL!
That's it. Easy enough, right?
2. For an extra chance to win, tweet about this contest (including a link to this post and mentioning @phetched). Post a link to your tweet in a SEPARATE comment field below. To link to a tweet, click the time stamp under your tweet as it appears in your feed (i.e., "2 hours ago") and it will send you to a permalink for that tweet. You may tweet about this contest as many times as you like, but only ONE extra entry will count per person.
The fine print:
3. Contest is open to U.S. and Canada shipping addresses only, please.
4. Please, only one entry per person (except as described in #2 above).
Tags: clothing, cool stuff, giveaways, sports
Comments are now closed.