This giveaway has ended. Thanks to all who entered!
–
The economy, crime, natural disasters, Roman Polanski… it's hard to find good news these days.
Luckily, Happy Tails Books is in the business of good news and happy endings. The Colorado-based publishing group, founded by dog rescuer and foster mom Kyla Duffy, is celebrating the recent releases of Lost Souls: FOUND! Inspiring Stories about Golden Retrievers and Lost Souls: FOUND! Inspiring Stories about Boston Terriers. Each book is a collection of true rescue stories guaranteed to make even the most hardened and heartless cynic a rescue advocate.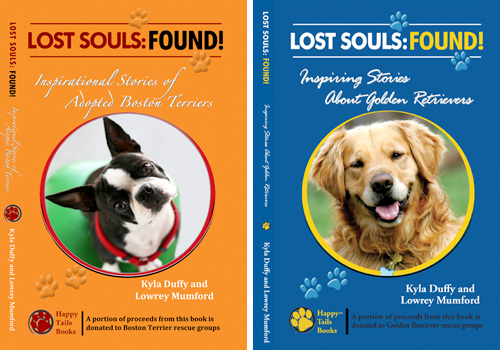 Besides donating a portion of sales to help fund rescue organizations, Happy Tails Books is passionate about raising awareness of dog rescue efforts.
I was excited to receive a copy of Lost Souls: FOUND! Inspiring Stories about Golden Retrievers to check out. Let me tell you, "feel-good book" doesn't even begin to cut it.
The 43 stories in the book, submitted by rescue workers, fosters, and adoptive families, tell of golden retrievers rescued from shelters, pounds, cold basements, and abusive owners. These broken-down dogs, given a second chance through rescue, are renewed and restored through the love and devotion of their adoptive families and "failed fosters." Of course, Lost Souls: FOUND! proves that rescue's most redemptive powers are often felt not by the dogs who are saved, but by we humans who welcome these forgiving, gentle souls into our hearts and homes.
Naturally, truth be told, not all the stories in the the book have happy endings, like the heartbreaking tales of Olivia and Zeus Bear. Indeed, these stories impart an even stronger message of the importance of responsible pet care and the often thankless, yet unbelievably crucial, job of dog rescue.
Happy Tails' upcoming releases will feature true rescue stories of dachshunds, Labradors, pit bulls, and "All-American" mutts (yay!). While somewhat partial to the mutts myself, I like the breed-specific focus of the Happy Tails series — it's important to remind potential adopters that wonderful purebred dogs can be found waiting for forever homes in shelters and rescues across the country, perhaps the best way we can strengthen the campaign against puppy mills and irresponsible breeding practices.

To find out more about (and order) Happy Tails Books, check out their web site. Plus, if you have a great rescue story to tell, you can submit it to Happy Tails for possible inclusion in a future book! Awesome!
And, for a chance to win a copy of Lost Souls: FOUND! Inspiring Stories about Golden Retrievers, simply leave a comment on this post below! (You will be asked to provide your email address to comment, but it won't be published.) Entries will be accepted until 10:00 a.m. Eastern time on Saturday, October 3rd, and at that time we'll draw one name at random to receive a shiny, brand-new copy of the book. Yippee! (One entry per person, please, and U.S. and Canada shipping addresses only)
Comments are now closed.