I'm pretty much a jeans, tee-shirt, and flip-flops kind of person. The last time I remember getting really dressed up was probably at my wedding. My dogs, being rough-housers and rabble-rousers, play it fairly casual, too — they never get invited anywhere too fancy. Nevertheless, I'm completely in awe of (and majorly coveting) the gorgeous handmade collars and leads from Collier Leeds.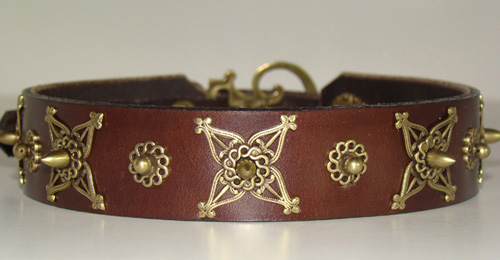 These gorgeous pieces are handmade from high quality latigo and English bridle leather, brass, and semi-precious gemstones. Collier Leeds' founder and owner, Mary Oswald, crafts each piece by hand in her workshop in Virginville, Pennsylvania. (What an awesome name for a town, huh?)
Oswald's unique and ornate designs are inspired by antique dog collars she encountered at the dog collar museum at Leeds Castle in Kent, England. (I'll admit it, I never knew there was a dog-collar museum anywhere. Awesome.)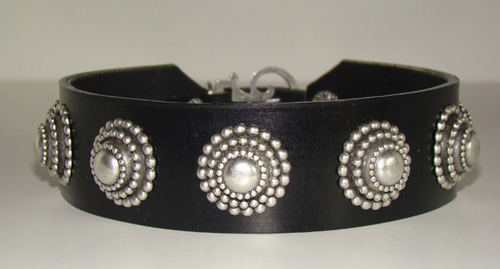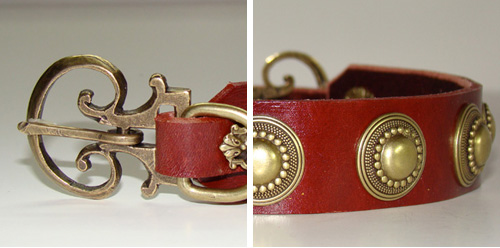 What's amazing to me is how completely reasonable the prices of Oswald's collars, leads, and beautiful collar charms are considering the craftsmanship and materials involved. If I ever have a Saluki (one of my Dream Breeds), she's totally wearing one of these collars. Fact.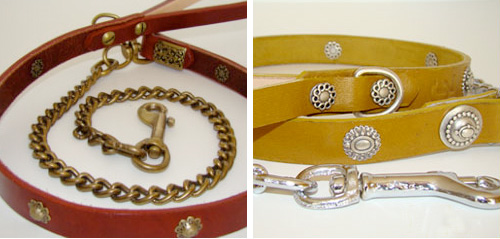 Find out more about Collier Leeds and check out all the exquisite designs on Collier Leeds' web site.
Tags: bling, collars, cool stuff, handmade, leashes
Comments are now closed.