Y'all know that we love eco-friendly stuff here at phetched. After all, dogs are total tree-huggers, right? (Umm, well, Mingus really likes to pee on trees, too, which doesn't seem very "friendly" at all, but, well, I can't really do anything about it).
The super-nice Michele Martin is here today to talk to us all about going green with your pooch. Michele (along with her sidekick, boxer Bella McBratty) runs Lucky Dog Organics, an online retailer specializing in organic and eco-friendly pet products.
(She's also offering a special coupon code for phetched readers for the month of September… see below for details!)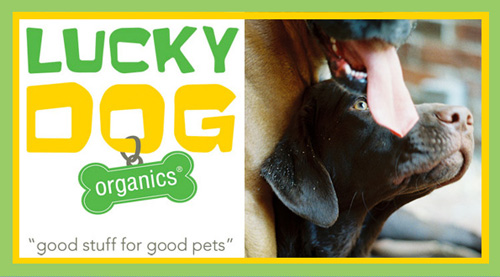 Phetched: Tell us how you got interested in holistic and eco-friendly pet care.
Michele: I had become interested in holistic living in the early '90s. I was a vegetarian, then macrobiotic and practiced a semi-green lifestyle. I chose cycling and walking, I lived small, etc. It wasn't until my former dog Lucky was diagnosed with cancer in 2005 that I made the connection between my own animal's health crisis and the modern approach to health and wellness in our pets.
What do you think is the hardest part of eco-friendly living?
I think there are many difficult things. Convenience, greenwashing, cost, status quo… all of these things make living green difficult. None of us can be perfect. I think the most important thing is to try and make small changes and to think about the origins and destinations of our products and the impact on our earth, our animals, and ourselves. Sometimes conventional is the right answer…if the "eco" answer is shipped from China while the conventional is locally made. Does the amount of carbon produced locally equal or come under the amount of the imported good? Consider that items were sent back and forth several times in order for decisions to be made, that several parts of the product may have been made here but shipped there for final production. The most important thing is not to be brainwashed by the "all natural," "organic," "eco-friendly" marketing on the label. Look deeper. We need to all become active participants and decision-makers.
It seems like "going green" is all the rage these days. Do you fear that people may get tired of the buzz eventually, and eco-friendliness may become little more than a passing fad?
I think that the buzz words will go away, but I believe the cause will remain. The generations that are growing up now are, for the most part, very eco-minded. Our generation is raising kids to respect the earth. This won't go away.
Tell us about 2-3 of your favorite organic or eco-friendly dog products.
It's hard for me to pinpoint only products. This is easier for me to talk about companies. Three companies that I love are:
a) West Paw Design – They are Montana-based and make everything in the US. Their eco products are an amazing reuse of plastic water bottles. Each toy is the equivalent of one plastic bottle. In some of the beds, 20 bottles were saved from landfills and chipped up and turned into fiber to create the beds! I also love their Zogoflex line of virtually indestructible toys like the Huck, Hurley, Tux, and Zisc. I like them so much better than the Kongs! AND they have a new awesome raincoat and reclaimed cotton sweaters for those chilly fall walks!
b) Zukes – These treats are made in Durango, Colorado. Free of a lot of the natural allergens such as wheat, corn and soy, this line comes in everything from a small training treat (Mini Naturals), a supplement line (Hip Action- available both as cat or dog), a baked treat, and a dental treat! The ingredient list is simple, and they are low in calories but high in taste. I have yet to meet a dog or cat who doesn't love them!
c) NuHemp – These Canadians really GET the whole eco/natural thing! Hemp is such a healthful ingredient, whether it be in food (high in Omegas! rich in easily digestible proteins!), bedding (hemp is naturally anti-microbial, anti-bacterial and anti-fungal), and grooming products. (Can I admit that I have used the pet shampoo? After running out of my own salon shampoo I said what the heck. Funny thing…less frizzies, better rinsability, less buildup, and people always compliment me on how good my hair smells!)
OK, I said just three, BUT:
d) Artisan Tags – This wonderful artist in Colorado makes these custom tags for me, and not only are they gorgeous… but they are made in the USA, there is no plastic, they are virtually indestructible, and your dog or cat will love them. The only catch is that they can take up to six weeks to get, so people need to order by mid-October to guarantee Christmas or Chanukah delivery. The best way to keep your pet safe is to keep them properly identified. A microchip doesn't always get your pet found, but a good secure collar with an easy-to-read tag listing name and a couple numbers is a definite must!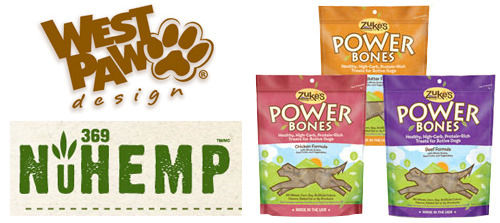 Do you have any favorite eco-friendly pet care tips to share?
a) Scoop the poop with newspaper or degradable bags. It is estimated that in a year the approx 74 million dogs in the US would eliminate enough solid waste to fill 1100 football fields from end zone to end zone… five feet deep. (That's approximately 10 million tons.) (Editor's note: Umm, gross??) So, don't hermetically seal those plastic bags that don't degrade. Imagine how much of our landfills are quite literally filled with poop!
b) Find the most natural food you can afford for your pet, US-made, US-grown and sourced… preferably organic. The healthier the food for your pet and your planet, the longer your pet's life and the less your vet bills. Spend more now on food to spend less later on vet bills!
c) Be leery of toys that are not NATURALLY made in the US. Most soft plastic toys contain PVC. This makes it pliable and gives off that distinctive smell (you know: new car, pool toys, inflatable balls, air mattresses). Well, the thing that gives it the pliability and the smell… phthalates. Phthalates are KNOWN endochrine distruptors, amongst other things. Your pet plays with its mouth. Saliva can help to create a leaching process. Don't risk it. Try safe toys like those from West Paw Designs or Ruff Dawg!
d) Do NOT buy disposable items for your pets. Disposable travel bowls? One-use tooth brushes? Disposable litter boxes? Really?! Leave a stainless steel bowl in your car or in your backpack. Buy your dog a toothbrush… you may only need to replace it every couple of years. And litter boxes… oh, my. All you need is a good sturdy litter box, and skip the liners… the cat is going to rip it anyway! Do NOT flush. Cats carry Toxoplasma gondii, which isn't properly treated in all water treatment plants. Seal this one up in non-degrading plastic! We don't want runoff issues into our lakes and streams! AND please… stop using clay. It's bad. Switch to a responsibly sourced pine product, or Swheat Scoop or Yesterday's News.
—
Wow, thanks, Michele, for bringin' all that knowledge! I guess there's a lot of little things we can do to be more eco-friendly dog owners.
And to help get us started, Lucky Dog Organics is offering 20% off all orders for phetched readers for the month of September! How awesome is that?! Just use coupon code Phetched09 at checkout. (Code expires 9/30/09.)
Tags: green, Interviews, Mingus, Web sites
Comments are now closed.