This pretty girl is named Hope.
Hope's been through the wringer the past few days.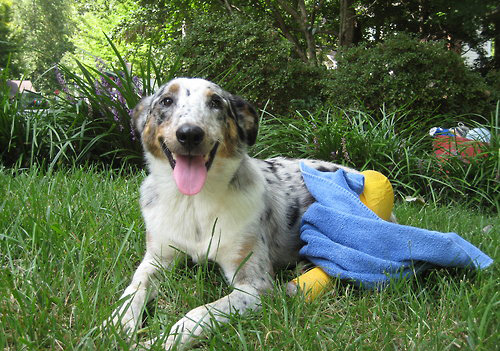 Scott MacLeod, a musician from here in North Carolina, found Hope in the middle of the road near Lumberton, NC, last week. She was obviously a stray, and obviously had been hit by a car. Both the pup's back legs were broken, and the vet who made the diagnosis advised Scott he should have the puppy put to sleep.
Scott decided that answer wasn't going to work for him — or for Broken Puppy (as she was soon to be called, before receiving her very apropos new name).
Scott and his wife Rebecca took Hope in and found a great orthopaedic surgeon in Cary, NC, to help fix Hope's legs. Hope's surgery on Monday was successful, and if all goes well, she'll get to return to Scott and Rebecca's today, where they will care for her through the long and arduous rehab she has before her.
Please visit Scott's blog to see more pictures of Hope, read about her surgery and recovery, and to see what can be accomplished with a little hope and a lot of love.
(If you want to donate toward Hope's medical care, you can do that on the blog, too.)
UPDATE (11:25 p.m.): Hope came home from the hospital today, and she has mobility in all four legs! Just over $4000 has been raised toward Hope's medical care, and Scott believes that will cover the vet bills! (Any monies left over will be donated 100% to United Animal Nations.)
Amazing… in just over a week, a broken-down little puppy's life has been saved, and she's on her way to running and playing once more.
UPDATE 11/4/09… Hope has found her forever home.

Tags: charities, rescue, tearjerker, Web sites
Comments are now closed.