I saw Zentek™ Clothing's performance dogwear featured in the new issue of The Bark that arrived in my mailbox yesterday, and I instantly wished my dogs were involved in some kind of extreme doggy sports so that I'd feel justified in ordering them one. (Mingus is currently taking a "hiatus" from agility — i.e., a break until he loses his sense of smell and is no longer interested in spending 97% of class running around with his nose on the ground — and, unfortunately for Dottie, competitive eating doesn't require a special wardrobe.)
These dog coats are flat-out cool. But they're also warm. What?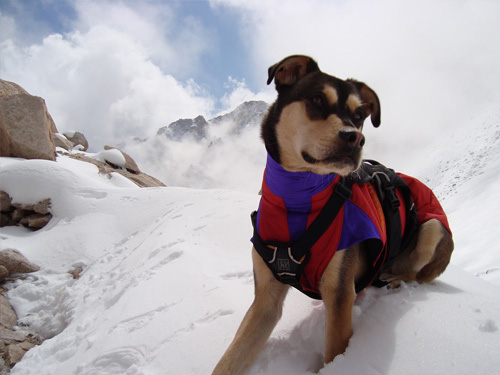 What makes Zentek coats so awesome is their Comfortemp® fabric: it reacts to both body temperature and ambient temperature, cooling your dog when he needs to be cooled, and warming him when he needs to be warmed. This page here explains all the crazy science behind it, and it has something to do with nonwoven textiles, Phase Change Materials, and NASA. In summary, I'll just say that it's AWESOME. And truth be told, your doggy doesn't even have to be a world-class athlete to benefit from the brilliance of Zentek — why, right here in North Carolina, it's supposed to be 94 on Saturday. I'm sure the dogs would be much more interested in a hike if outfitted in fancy, magical, auto-cooling doggy spacecoats.
You can order Zentek coats (which come in varied cuts and styles to accomodate different dog body shapes) right from the Zentek web site, plus check out more awesome photos of Zentek dogs in action.
Comments are now closed.